We all have Todoist actions that we repeat often, like adding a task to your grocery project. Sometimes, it can get repetitive to constantly add it to the same project and set the same date.
The good news is that if you're using an Apple device running on iOS 13 or later, you can now create time-saving Shortcuts that let you do your most common Todoist actions without having to repeat every step, every time.
For instance, you can create a shortcut that helps you quickly add a task to your shopping list by just saying "Add to shopping". Activate the shortcut and your device will ask you for the task's name, then automatically move the task to your "Shopping" project, and set its due date for Saturday (or whatever date and project works for you!).
If you have set up a
schedule for a Sleep Focus
, you can add Todoist Shortcuts to
your Wind Down screen
:
Open the Health app.
Tap Sleep.
Tap Full Schedule & Options.
Tap Wind Down Shortcuts.
Choose the Todoist Shortcuts you want to add to your Wind Down screen. You can choose between four shortcuts: Open Todoist, Open Upcoming, Add Task, and Open Today.
Create a shortcut that uses Todoist actions
Open the standalone Shortcuts app.
Tap Create Shortcut or the + symbol at the top of the screen.
Search for the Todoist action Create Task.
Set Task Name. If you select Ask Each Time, you will be asked for the task's name whenever you use this Shortcut. If you add your own task name, such as Buy Milk, a task with this name will be added whenever you use this Shortcut.
You have a few options for the due date, project, priority and labels for the new task: You can make Siri ask you for the information when you create the task, or you can explicitly set each field (like setting the project to "Shopping").

(Optional) If you toggle

Show when run

you'll be notified whenever the shortcut has run.

Tap Next in the top-right corner.
Enter the name for your new shortcut and tap Done.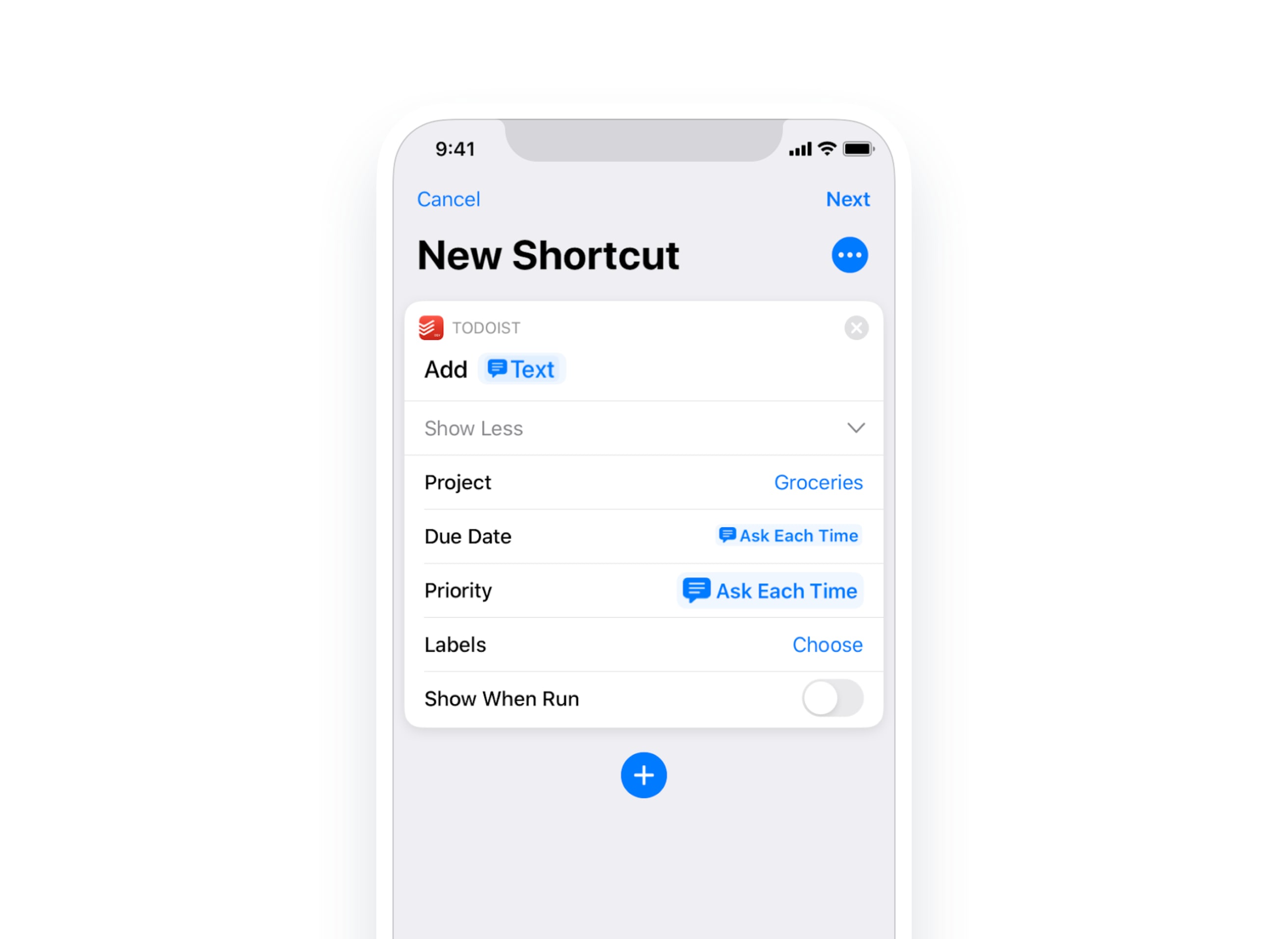 Once your shortcut is created, you can activate it by asking Siri. You can also activate it from the Share Sheet, Today Widget, from the Shortcuts app, use the shortcut in an automation, and more. Here are a few examples to start with:
Ask Siri to "Get ready for my trip" which can automatically add tasks for every item in your packing list to your "Travel" project.
Tell Siri about a "New bill", and your device will ask you for the name of the bill, and when it's due, and then move the new task to your "Bills" project.
Create an automated shortcut that triggers every time your phone connects to your Home Wi-Fi, and adds a task to take out the trash.
Create an automated shortcut that triggers every morning at 9am on weekdays, and adds a task to eat breakfast, a task to feed the dog, and a task to pick up your favorite coffee.
If your Apple device is on iOS 14 or later, you can customize the double or triple tap on the back of your iPhone to launch a specific shortcut:
Make sure you've already created the shortcut using the instructions in this article.
Open the Settings app.
Select Accessibility.
Select Touch, then Back Tap.
Choose either Double Tap or Triple Tap.
Select the shortcut you want easy access to.