Welcome to the Business plan!
As an admin, you can add and remove team members, change your team settings, and manage your payments and invoices – all from your admin console.
Watch the video below to learn more about the value Todoist Business can add for you and your team.
Access the Todoist Business Admin console
To access the Todoist Business Admin console, follow the instructions below:
Log into your Todoist account in a browser. Make sure you are logging in to the admin account for this Business team.
Click your avatar in the top-left corner.
Select Business admin.
Read on for instructions on how to use the Todoist Business Admin console to invite and manage users as well as handle the settings for your account.
Invite new users
From the web, macOS, or Windows apps, open the Users tab on the left side of your admin console.
Click the Invite users link below your team's name at the top.
Type in the email addresses of the people you'd like to invite.
When you're done, click the Send invites button.
Once invitations have been sent, team members will appear with one of two statuses:
Invited – Placeholder accounts are created until users accept their invitations.
User – Users who have accepted your invitations.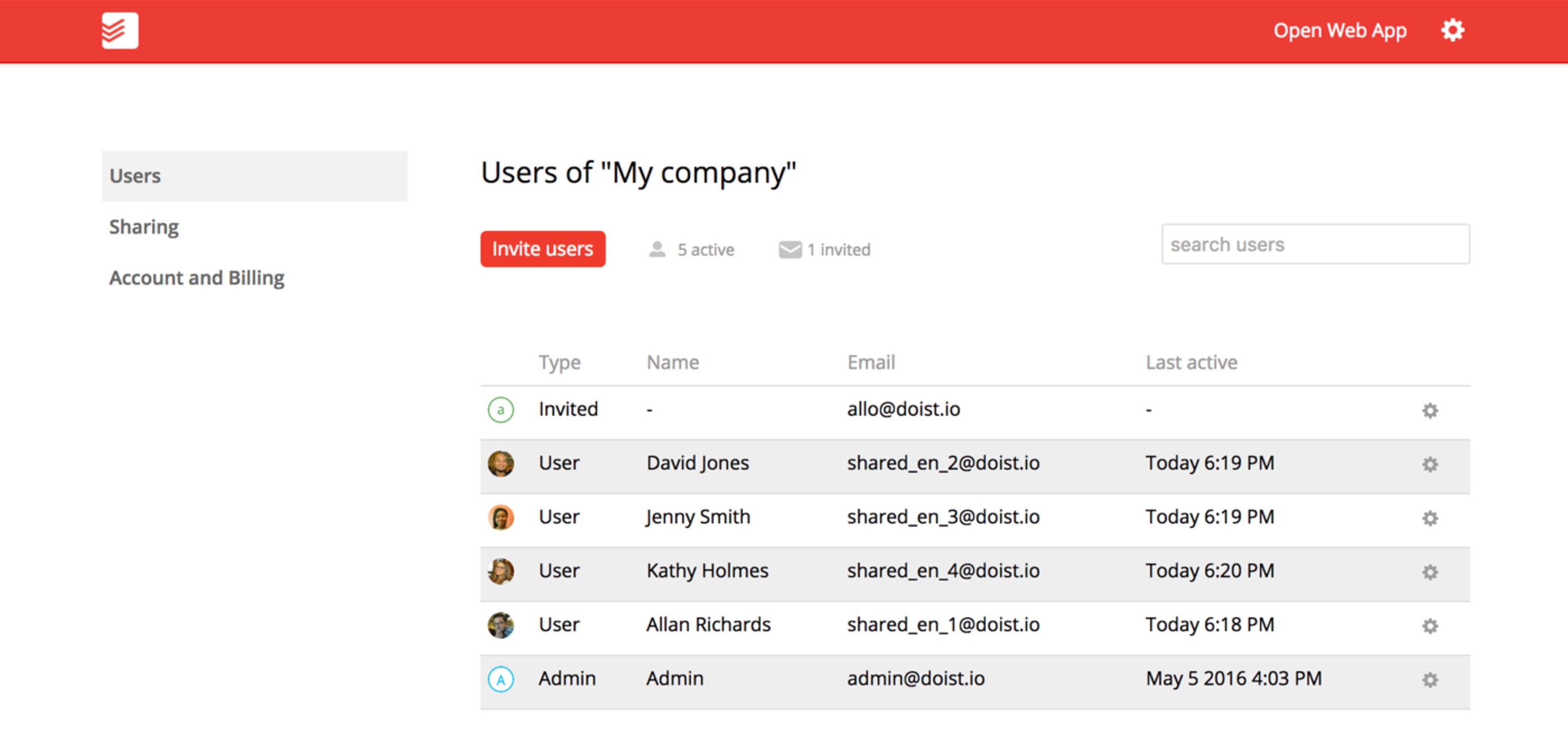 Manage users
Open the Users tab on the left side of your admin console to see all active and invited users in your account. To search for any user, simply type their name or email address in the search field at the top right.
To reset a user's password, make them an admin, or remove a user, click the gear icon to the right of the user's name and select the action from the drop-down menu.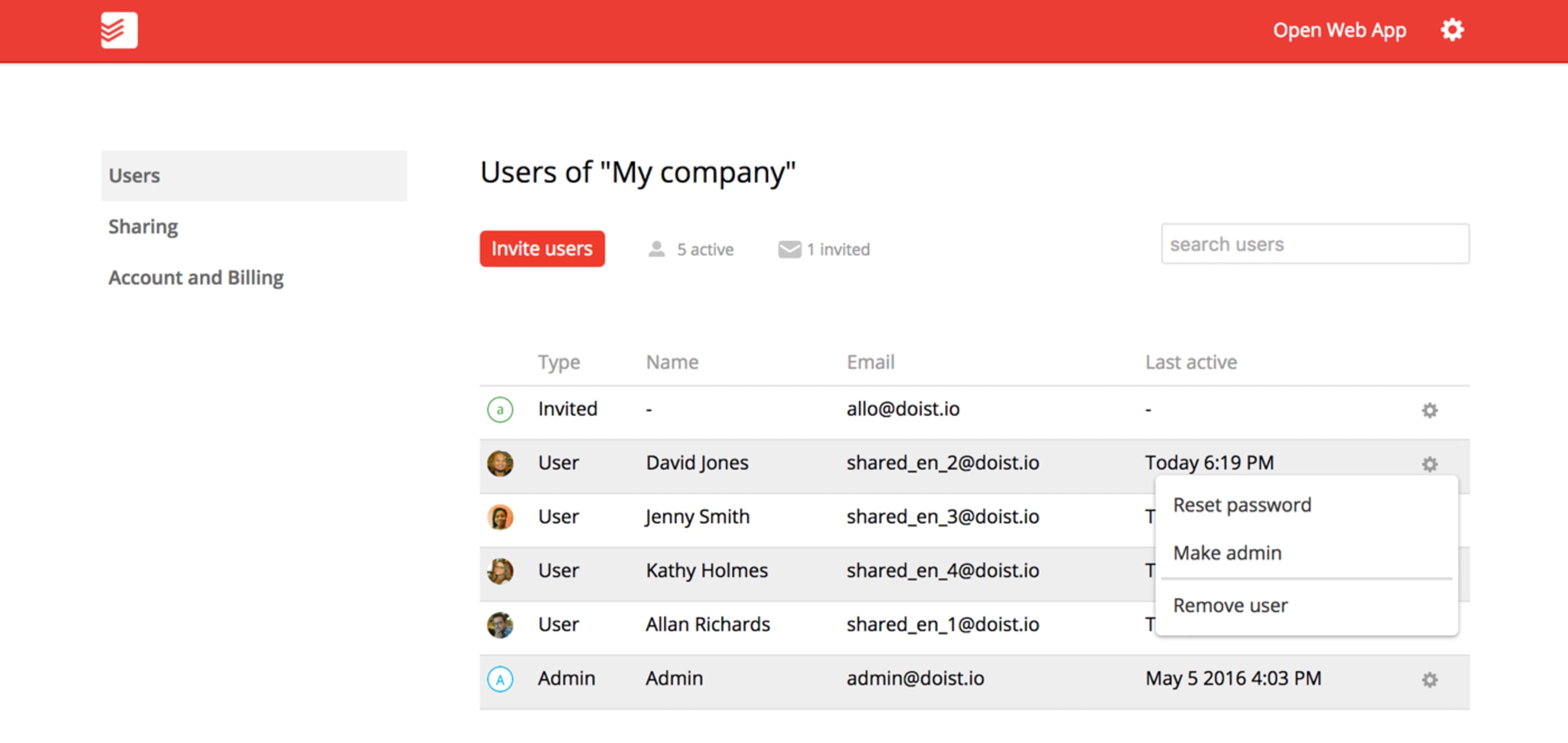 Set shared project permissions
Open the Sharing tab on the left side of your admin console to change or set shared project permissions.
You can decide:
Whether team members can share projects with people outside of your Business account
Whether team members can join projects outside of your Business account

Manage your account and billing details
Open the Account and Billing tab on the left side of your admin console. From here, you can view and update Your current plan and Billing information. You can also review your full Billing history including all of your transactions and their respective invoices.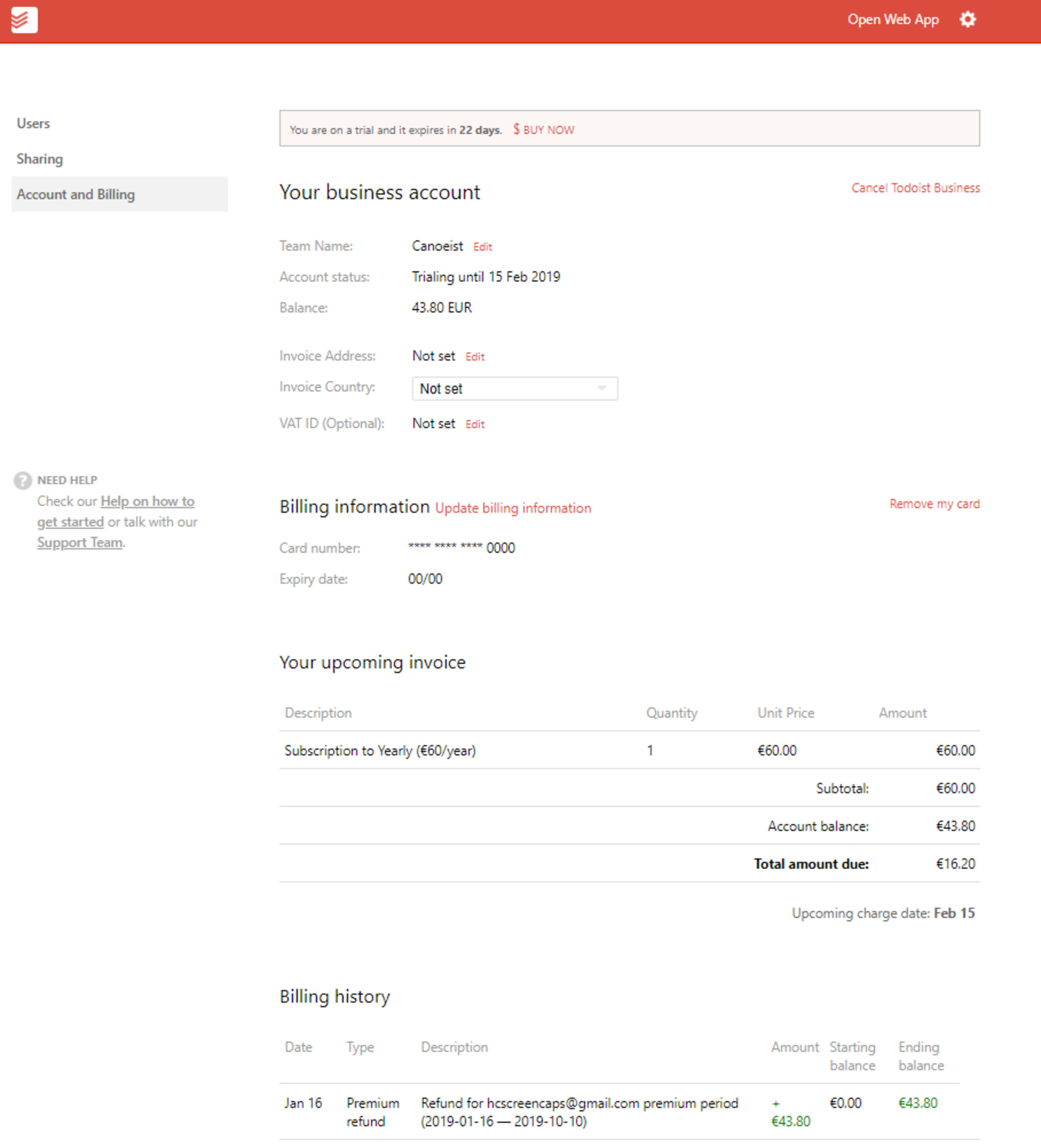 You can apply for VAT exemption, if your
payments are made in EUR, DKK, SEK, or GBP
. Please visit
this article
to learn more. 
Security and reliability
Todoist employs a 24/7 engineering team that maintains up-to-date firewall protection, intrusion detection, and access control audits on multiple levels. All communication to and from Todoist servers is fully SSL-encrypted with a 128-bit key. We never access user data and we never pass it to third parties.
Todoist is prepared to handle an extremely high volume of data with an average up-time of 99.99%. Your Business account also creates automatic daily backups that you can restore at any time.
You can read our full security policy here.