Todoist is the command center for your work and life. Simplify and organize your team's work too, and keep track of all your tasks in one infinitely customizable place. 
About teams
A team is a shared home for your team's tasks and projects. All the members can browse, preview, or join active or archived projects in the team.

Set up a team from scratch
Step 1. Create a team
If you already have a Todoist account, get started by creating a new team for free. You'll find the option in the bottom-left of Todoist.
During the beta, the option to create a team isn't available on Android and iOS. Rest assured that this only affects creation, any team added via the web or desktop can of course be accessed on mobile too!
If you're new to Todoist, go ahead and create a new account. Toggle on the team option during the signup, and you'll be guided through creating a team.
Step 2. Invite your teammates
Click Members in the top-right of your team. You'll see two options to invite team members:
Invite by email: send an invitation to join your team
Invite by link: copy and share an invite link with your team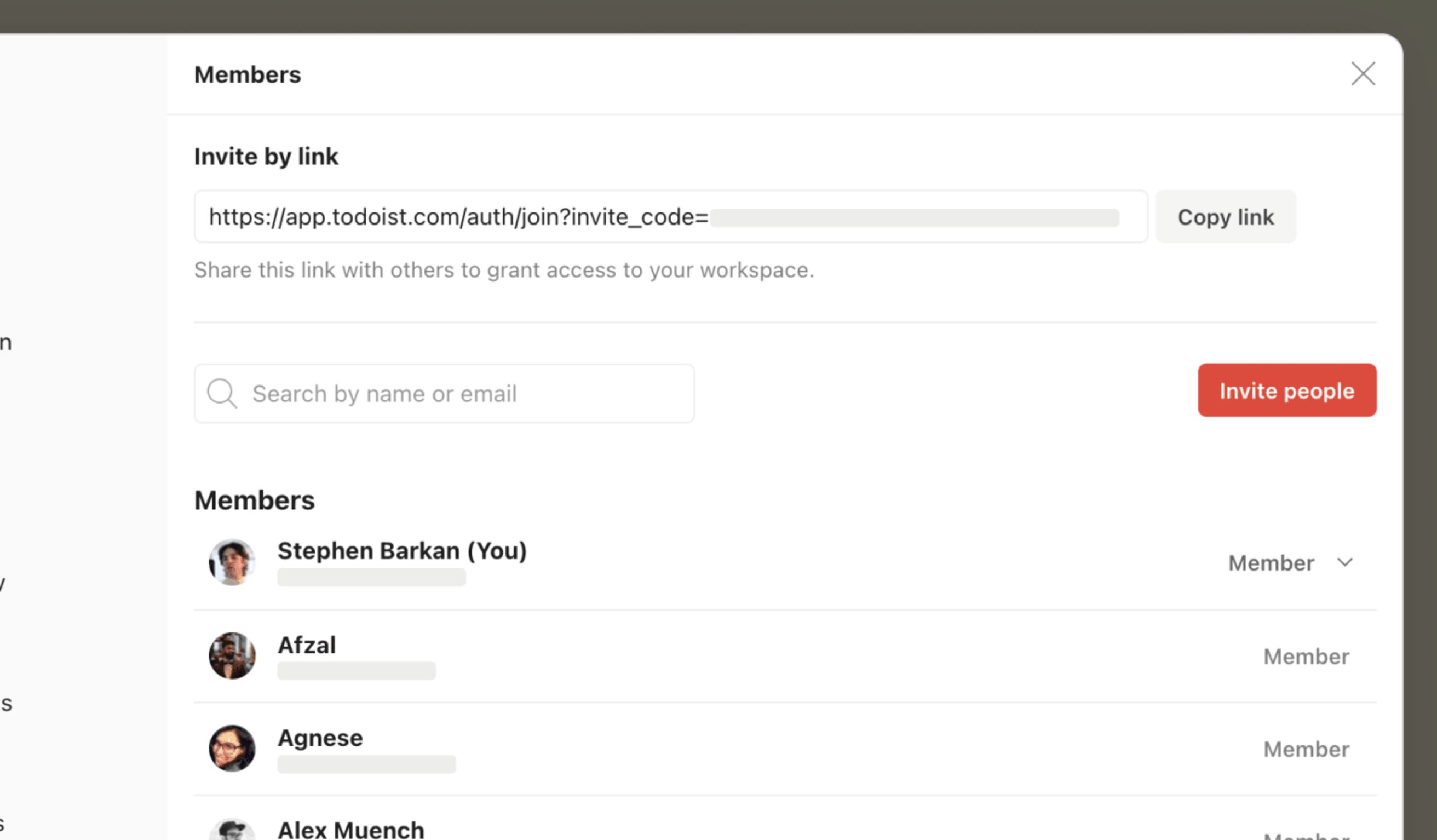 (You can also remove someone's access from here if needed.)
Step 3. Kickstart your teamwork with a few new projects
Create one or two new projects for big things your team is working on and start listing any relevant tasks that come to mind. (Or get started with our pre-populated templates for teams.) 
Then click the Share icon in the top-right of any project to share it with the relevant team members. While all members can browse and preview all projects (that are not restricted), they'll need to join a project before you can assign them tasks and tag them in comments. 
To share projects faster, simply copy and share the project link into an email, Slack message, Twist thread, or wherever your team communicates. Team members will be able to click the link to preview and join the project on their own.
It's not currently possible to move projects between teams, but we're working on it!
Join an existing team
You've successfully joined a team. It's time to join the projects that are relevant to you.
Click the team name in the sidebar to view a list of all team projects.
Then, click any project to preview and join it. 
Projects you've joined will appear under the team name in the sidebar for easy access. 
Notice new things your team needs to keep track of? As you get settled into your team's workflow, you can start creating and sharing projects of your own. 
Add your most important projects to Favorites, then collapse your teams to keep your sidebar clean and focused.
The rest of this guide will walk you through a few quick tips to streamline your team's task management, so everyone can focus on actually getting things done: 
Manage your team tasks 
Assign every task so everyone's clear who's responsible for what
In Todoist, each task can only be assigned to one person so there's never doubt about who's doing what. 
Set due dates – or recurring due dates – so everyone's clear what's due when
Simply type any due date into the task field and Todoist's smart Quick Add will recognize it, highlight it, and add it when you save the task. Natural language due dates can be as simple as "tomorrow" or as complex as "every 3rd Thursday starting Aug 5 and ending April 10".
See more due date examples you can use here.
Add context in task descriptions so people have the info they need to get started
Include links to documents and as many relevant details as you can. Instead of wasting time hunting down information, your teammates will be able to just get started. 
Descriptions stay organized at the top of your task view and are visible underneath the task in the project list. 
Sometimes the "do" date (when someone will actually work on a task) isn't the "due" date (when the task has to be done by). When that's the case, just note the final due date at the top of the task description so it's always visible from the task list and set the task's actual due date to when you want the task to show up in your teammate's Today view.
Discuss details and upload files in comments
Ask questions, give more information, and provide status updates right inside your tasks. Actionable information stays in context with the task itself instead of spread across messaging apps. 
Tag the right teammates to make sure they're notified about a new comment. 
Task description vs comments: Use task descriptions for permanent information and resources about the task. Use comments to upload files and back-and-forth discussions with teammates.
Creating your own task views to stay focused 
Separate tasks by teams in your Today and Upcoming views
You can access view options in your Today and Upcoming views. You'll see the option to group by team so you can see both your personal and team tasks split up. Or filter by team so you can focus on one or the other.
Use view options to focus on the right tasks inside big team projects
View options make even the biggest projects manageable.
Group, filter, and sort your projects by task name, assignee, due date, date added, label or priority level. For example, view just the tasks that are assigned to you inside of a larger project.
If you need to review completed work, turn on or turn off Completed tasks.
Set up custom filter views to fit your workflow
Create your own filters to focus on the right tasks at the right time. For example, a filter for "all tasks assigned to me in the [team name] team due today" so you can focus on any work your teammates are expecting from you. 
Here are a few other handy filters for collaboration in Todoist:
"All tasks I've assigned to [teammate's name] in the [team name] team"
"All overdue tasks I've assigned to anyone else in the [team name] team"
"All tasks due today in my personal workspace" 
With our new Filter Assist, you can describe any filter you want using natural language and Todoist will create the filter query for you. You can copy and paste any of the examples above, change the details to suit your needs, and create a filter in seconds.
Please note that Filter Assist is currently only available in English.
Reporting so you always know where work stands
Get a snapshot of your team's work in the activity log
The activity log shows you everything you and your teammates have been up to.
Filter by person to see what individual team members have been working on. Select Everyone from the menu to get an overview of the entire team's recent productivity.
To see an overview of completed work, select Completed tasks from the action menu.
Create customizable project reports with the Google Sheets extension
Quickly document and report on project status by exporting tasks to Google Sheets. For example, export a list of all completed tasks or all active tasks sorted by due date. 
To create a report, open any project, choose Export to Google Sheets from the project menu, and select which task fields (including due date, completion status, priority, creation date, description, section, and assignee) you want to include in your spreadsheet.
Get help
Find more information about teams in the Teams FAQ.