Boards are a powerful way to organize and visualize your Todoist projects. From weekly meal plans to five-year business strategies, boards make it easy to get a bird's-eye view of your projects and make progress from start to finish.
You can easily drag tasks to wherever you need them, add and rearrange sections as you like, and get a perfect view of the work you need to do.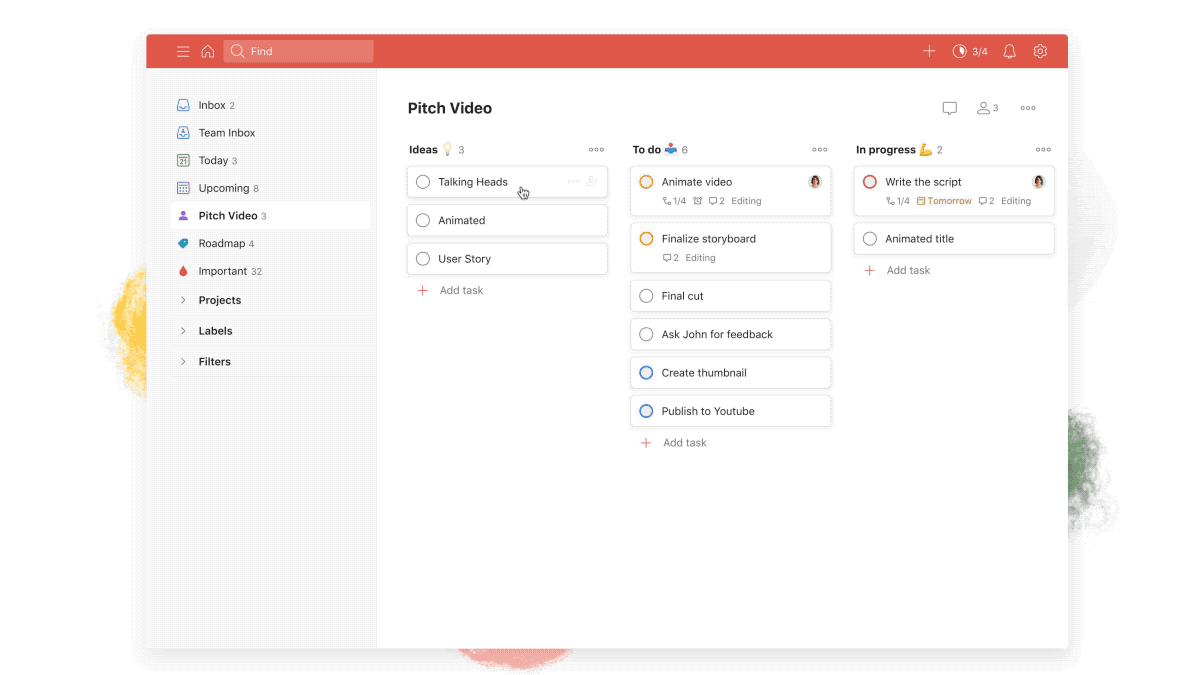 Each section in a project is displayed as a separate column with tasks shown as cards. Tasks that don't belong to any section appear in the first default column with the "No Section" title.
Here's a quick walkthrough of how boards work: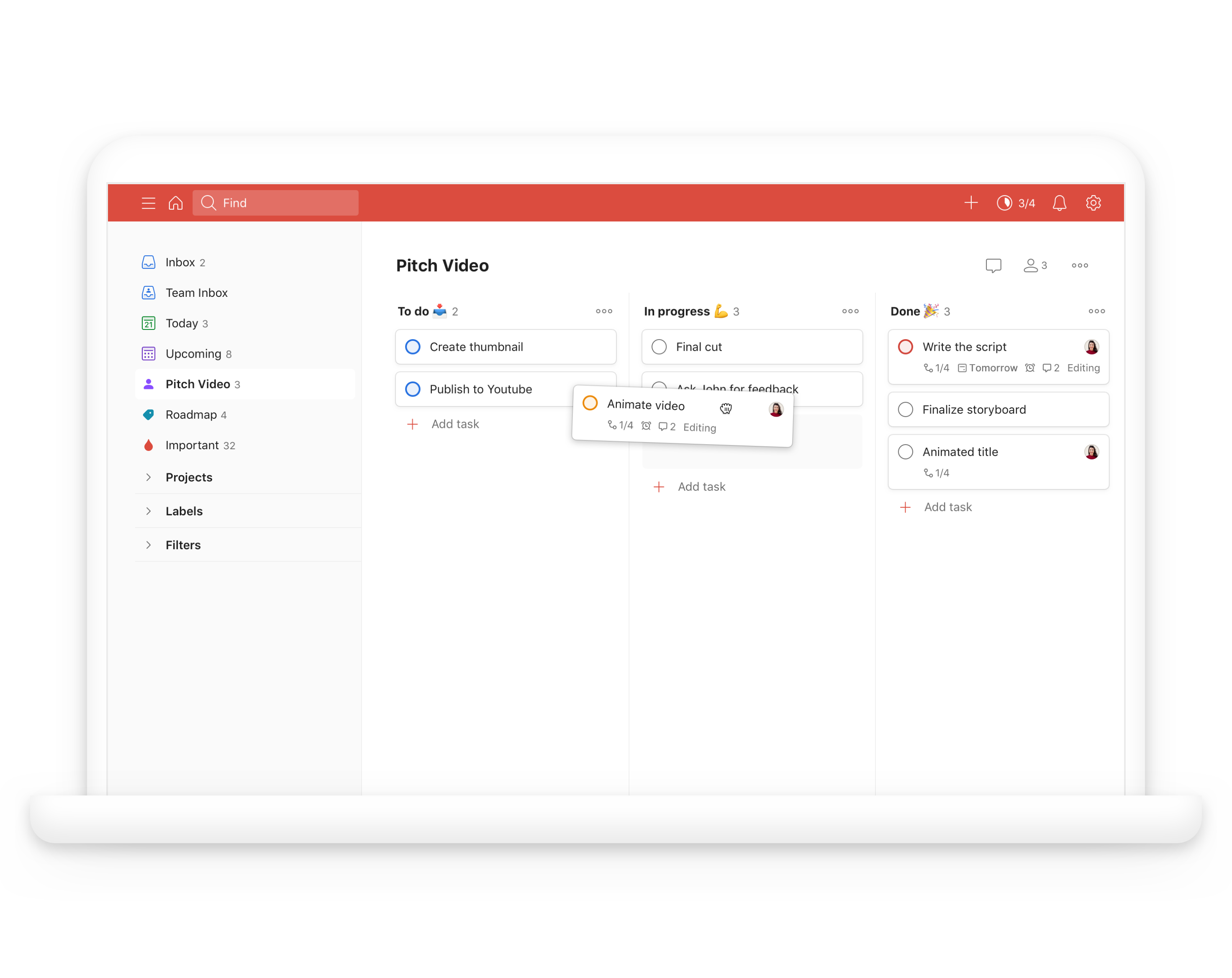 You can easily switch between a board and a regular list, here's how:
Turn on board view
When creating or editing a project, turn on board view right away by selecting Board under the View option.
If you're turning on board view for an existing project or view:
Open any project, Inbox, Today, or Upcoming from the sidebar.
Click View in the top-right corner.
Click Layout.
Select Board.
Use the Shift + V shortcut to quickly switch between board and list views.
Turn off board view
Open any project or Today from the left-hand menu.
Click View in the top-right corner.
Click Layout.
Select List.
Create a new section in board view
Scroll through your existing sections to the far right and click the Add Section button, or simply press the s key to add a new section to the end. Alternatively, hover between existing sections and click the Add Section button to add a new section in that spot.
Type your section name.
Click Add Section or press Enter to save.
Reorder sections in board view
Hover over a section name.
Drag and drop your section to a new position in a project.
Create tasks in board view
Click the + Add task button in a section where you would like your task to be, or use Quick Add by clicking the + icon in the top-right corner. Alternatively, you can press the a key to add a new task to the first available column.
Type your task name and apply any parameters (e.g. a due date, priority, label etc.). You can also use the / shortcut to add a task to a specific section from anywhere.
Click the Add Task button to save your new task.
You can easily rearrange your work by dragging and dropping tasks between sections.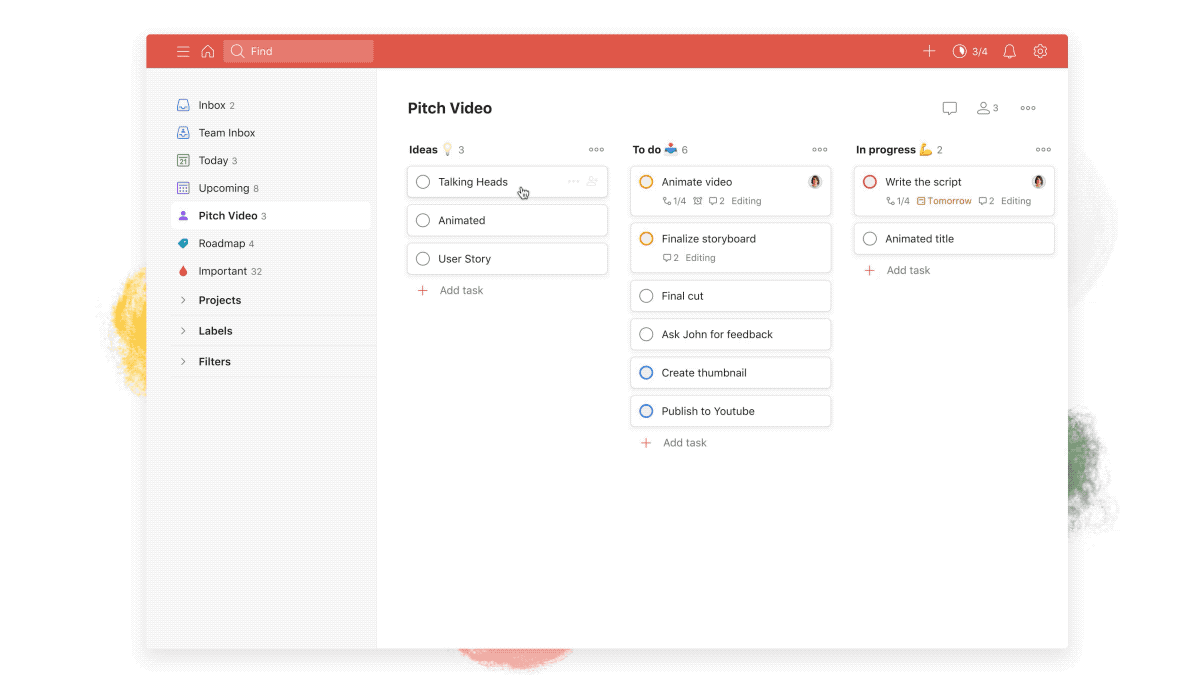 🏃‍♀️ Kickstart your next project with
boards templates
to help you write a book, manage social media, develop an app, and more.
FAQ
Board view is currently not available in filters.
Yes, the selected view is synced between project members; if someone switches to a different view, it will switch for everyone else in a project.
Yes, any changes you make in board view are synced between all project members just like in a regular list view.
At this time you can't reorder sub-tasks right from board view. We hope to bring this option later on. In the meantime, you can tap/click a task to open task view and then reorder the sub-tasks there.
It's not currently possible. When printing in board view, your project will be automatically rendered as a list. We may implement a board layout for printing in the future.