The Remote Working Parent's Survival Guide
Lessons in work-life balance for remote working parents *and* their companies.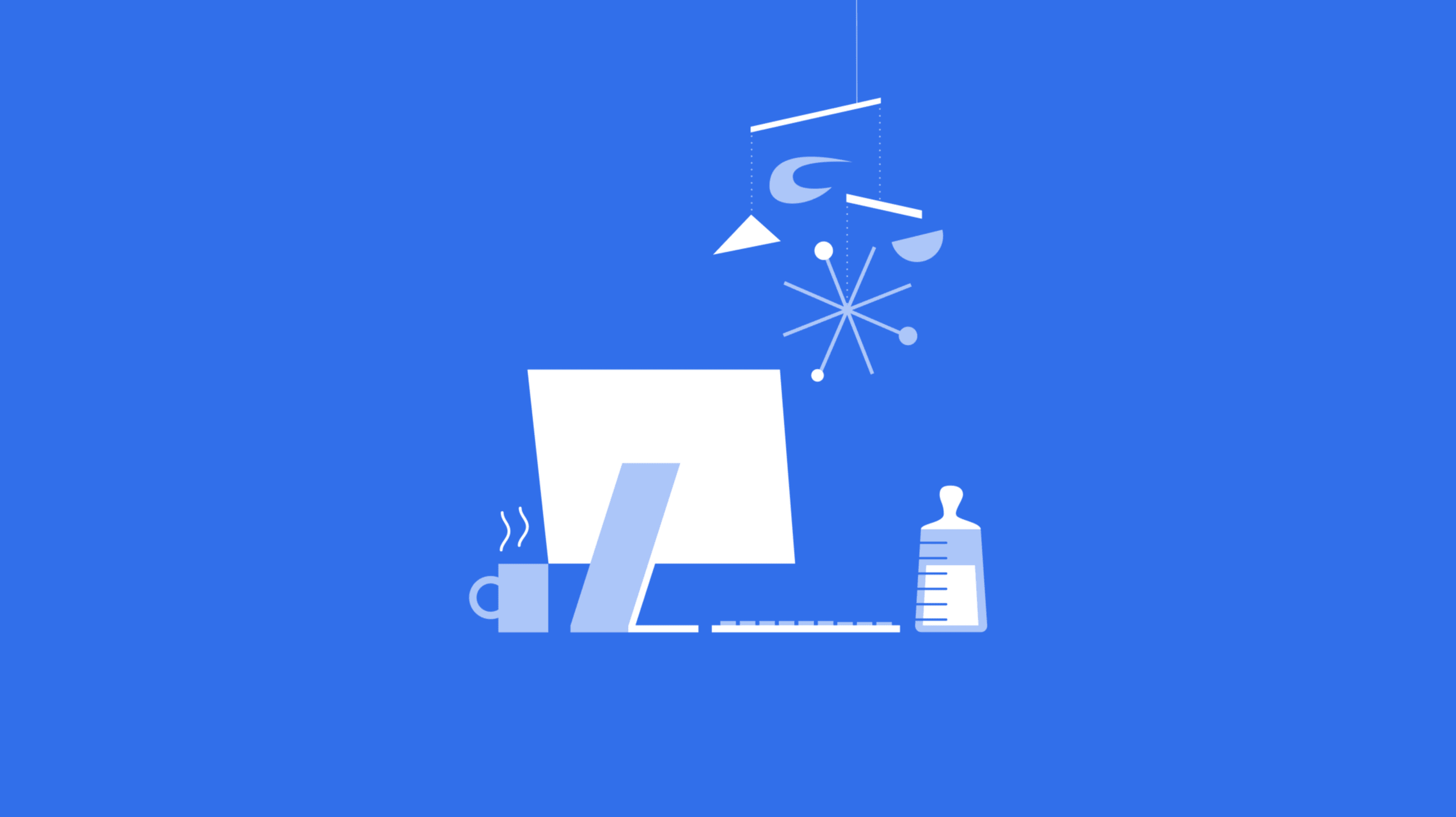 My husband, Francisco, is from Chile and I am from Colorado. We're essentially flying solo far up in the Pacific Northwest since there are no family members to rely on for long-term, short-term, date-night, or I-just-need-a-freaking-break childcare.
We both work full-time; I in our home office/kitchen/living room/rocking chair or a coworking space, and Francisco at his company's headquarters which is exactly three miles from our house. We do not live in the "cool" part of Seattle, but are content to sacrifice vegan ice creameries and kombucha bars for a one-song-on-the-radio length commute that allows for extended family breakfasts and several quality hours of evening play-time.
One last thing about me: I work for Doist, a remote company that's massively ahead of the curve in terms of work-life balance and forward-thinking policies for parents. Yes, that fact made the transition to becoming a working parent easier, but as I've discovered over the past year, being a parent is hard regardless. Being a working parent is really hard. Working remotely at home with kids is — you guessed it — also really damn hard.
I wanted to write this post to reflect on things remote working parents and their companies can do to make raising a family and doing great work possible.
My daughter is napping now, so I could have 48 minutes or 3 hours to work on this draft. Let's cut to the chase while we still can, shall we?
How we approach parenting at Doist
I've been with Doist since September, 2012 and became the very first mom on the team four years later. We didn't even have a maternity or paternity leave policy in place until I shared the news with Amir and Allan in March of 2016. Soon after, we set out to create a leave policy that would be competitive with other tech companies and that would reflect our company's preeminent values of both ambition and balance.
I reviewed 26 different maternity leave policies from companies like Dropbox (16 weeks), Optimizely (17 weeks), Microsoft (20 weeks), Buffer (12 weeks) and Amazon (8 weeks). The average paid time off given to new moms according to this research is 15.2 weeks.
Ultimately, we decided to go the extra mile and implemented the following PTO policy for new parents:
Full-time employees who have successfully passed their three-month trial period are eligible for Doist's maternity and paternity leave:
Maternity leave: you'll get to enjoy 18 blissful (though possibly sleepless) weeks of paid time off with your new bundle of joy. A portion of the 18 weeks may be used before the baby's birth, or you can use them all after the baby is born.
Paternity/adoption leave: once your baby is born or your adopted child has come into your care, you'll have 5 weeks of paid time off to spend with the newest (and cutest) addition to your family.
Correlation does not imply causation, but since announcing this policy, two other moms have given birth (including Catalina from the photo above!). Amir (Doist's CEO and founder) and Neil (product marketer) have both become new fathers, and Gonçalo (CTO) is anticipating the birth of his first son in October. With 14 mini Doisters and one on the way, more and more of us are navigating the tricky balance between being a good parent and a good teammate.
Routines that prioritize completely unplugged family time
In addition to a generous maternity/paternity leave policy, as a fully remote company we also give each team member complete flexibility to work during the hours that suit him/her best. We believe that eight hours of effective work five days a week is more than enough to get everything done (we are in the productivity business, after all).
This means that we can craft our hours around our kids' schedules. For example, this is how Panagiotis, a designer from Greece, generally organizes his day:
My day starts at 6:30AM and once I'm done with my morning work routine we all have breakfast together. By the time the girls are back from school, I've finished about 70% of my work and once they've completed their homework, my MacBook goes into sleep mode. That's the ideal scenario or how I usually plan things… But they are kids, and this is life and there are days that things don't go as planned.
As Panagiotis so kindly reminds us, we can try to anticipate things, but at the end of the day, kids are kids, life is life and, as parents, we have to be ready for plans to get derailed. For example, this is how I attempt to structure my Mondays, Thursdays, and Fridays:
7:00AM– Some roulette wheel of waking up, cuddling with baby, showering, enjoying a family breakfast, and/or walking the dog.
9:00–10:30AM– Non-cognitive work
Review all Twist threads and direct messages, comments on shared Todoist projects, and work email. Mark tons of things as unread to review later during deep work time.
Start taking action on any tasks that require minimal concentration/mental effort while the baby enjoys some (screen free) play time.
There are lots and lots of interruptions during this time, there's no way around it, and that's ok. Keep reading to learn some methods to deal with this inevitability.
10:30AM– Baby naps. This means deep work time in my home office.
12:30PM– Lunch & "commute."
1:00–4:00PM– Arrive to the coworking space with on-site childcare where I deep work like there's no tomorrow.
4:30–5:00PM– Arrive home and continue to deep work like there's no tomorrow until the baby wakes up from her play- and car ride-induced nap.
8:00PM– Baby's bedtime. At this point, I'm usually so mentally/physically drained that I never plan to work after she goes to bed. I use this time to rest and recharge by doing sports, gardening, reading or cooking (or occasionally falling asleep to Parks and Rec on Netflix, let's be honest).
Piotr, from Doist's Android team, lives in Turkey and his son, Deniz, is almost 1 year old. Like myself, he is navigating the challenges of sharing a home — and therefore a home office — with a little creature whose mobility seems to multiply by the minute. "When he was more stationary it was quite easy to work from home. I just went to my room, closed the door and worked." *sigh* The good old days.
Now, he's running around the house and screams if something isn't the way he wants it. Working from home has become more difficult. I still try and work from my room but it's very hot in the summer in Turkey– closing the door isn't an option so… I'm using pillows to make a barricade. The room is an L shape so he can't see me– he still knows I'm there, but because he doesn't see me, he's able to calm down faster. Still, a couple of times a day he tries to "jump" over the barricade, but he hasn't succeeded (yet).
Omar, part of Doist's Support team, lives in Jamaica and has one son, Sam-Rojé, who is four years old. Before joining Doist, Omar worked as a manager in a corporate office. "I was required to wake up every day at 6:30am and in zombie-like fashion slip into the routine of packing the baby bag, fighting both sleep and traffic, dropping my son off at Grandmas (FedEx style) and making a mad dash to get to that all-important sign-in roster at my job," he recalls.
Now, he says, "the freedom and flexibility of remote work allow me the privilege of purposefully approaching the compartments of each day in a way that best fits my life and allows for my best work."
Omar's day starts with meditation and family time which allow him to address his tasks feeling properly calibrated. He begins by checking in to see if there are any outstanding issues, and then organizes and prioritizes what else needs to be done and when.
"I typically front-load the day by taking care of collaborative tasks and catching up on the need-to-knows. Once that's done, I'm able to "eat my frogs" and knock off some quick wins so that I build momentum to do several hours of deep work during the afternoon," he adds.
After "emerging from beast-mode" and before transitioning back into family time, Omar implements his "magic dad trick": taking a 15–30 minute power nap right before picking Sam-Rojé up from school. "This does wonders for my energy and engagement level for our playtime and has been a glorious boost to our bonding times and his own personal growth."
Kids and meetings: An unpredictable combination
Though, at Doist, we prioritize being in "beast-mode" and doing deep work over having meetings or getting stuck in the never-ending conveyor belt of group chat, sometimes meetings are inevitable.
As you may recall from the now infamous BBC interview with Professor Robert Kelly, video conferences and kids are, well, an unpredictable combination. Luckily, Doist is not in the live broadcasting business and our conference calls are far more relaxed. So relaxed, even, that Allan, our COO, not only extends an invitation to me for a call, but also to my daughter.
Admittedly, though, it can be stressful when you're trying to have a conference call and your baby is pulling your hair and/or crying and/or trying to eat fistfuls of dog food.
Luckily, we try and make sure meetings are as efficient as possible by prepping everything in a Todoist project prior to the call. Using the marketing team as an example, every team member has a specific "One-on-One" project which is divided by things to discuss and action items. This way, we know exactly what's on the schedule and what needs to get done after each meeting has concluded.
Sanity Savers #1: Apps and devices
There are a handful of apps and products that can help remote working parents maximize the time in our days and the effort we put into our tasks. (Please feel free to share other recommendations in the comments below!).
Sanity Savers #2: Tactics for focused work
You can download all the app stores' apps and set up the world's most high-tech, gadget-filled home office, but if you aren't mindful of your work habits, your success as a remote working parent will suffer. A lot. And fast.
As a parent, your time and energy are your most precious resources. When you're working you need to be as efficient as possible so you can truly disconnect when it comes time for family. Here are some suggestions for getting the most out of your work hours while working from home:
---
Considering that, on average, women around the world have 2.42 children each and that 70% of  US-based employees expect to continue working from home at least three times a week even after the pandemic is over, parenting while working remotely is bound to become a hot topic.
As the Doist family grows, we look forward to sharing more insight and advice about this new work lifestyle. Please let us know if you have any additional advice to contribute or questions for our team! We'll be happy to keep the conversation going in the comments below.
Remote work drives economic prosperity, enabling working parents to stay in the workforce, empowering people with disabilities to find meaningful work, and giving opportunities to talented people in developing countries. Read our online handbook, The Future of Work: The Guide to Remote Work, for more insights on why remote work is an economic and social force that's here to stay.
Brenna Loury
Brenna is the Head of Marketing at Doist.