As you successfully complete tasks on time in Todoist, you'll gain Karma points and achieve new Karma levels.
You can see your current Karma points and level by selecting the Karma tab from the Productivity view on any platform.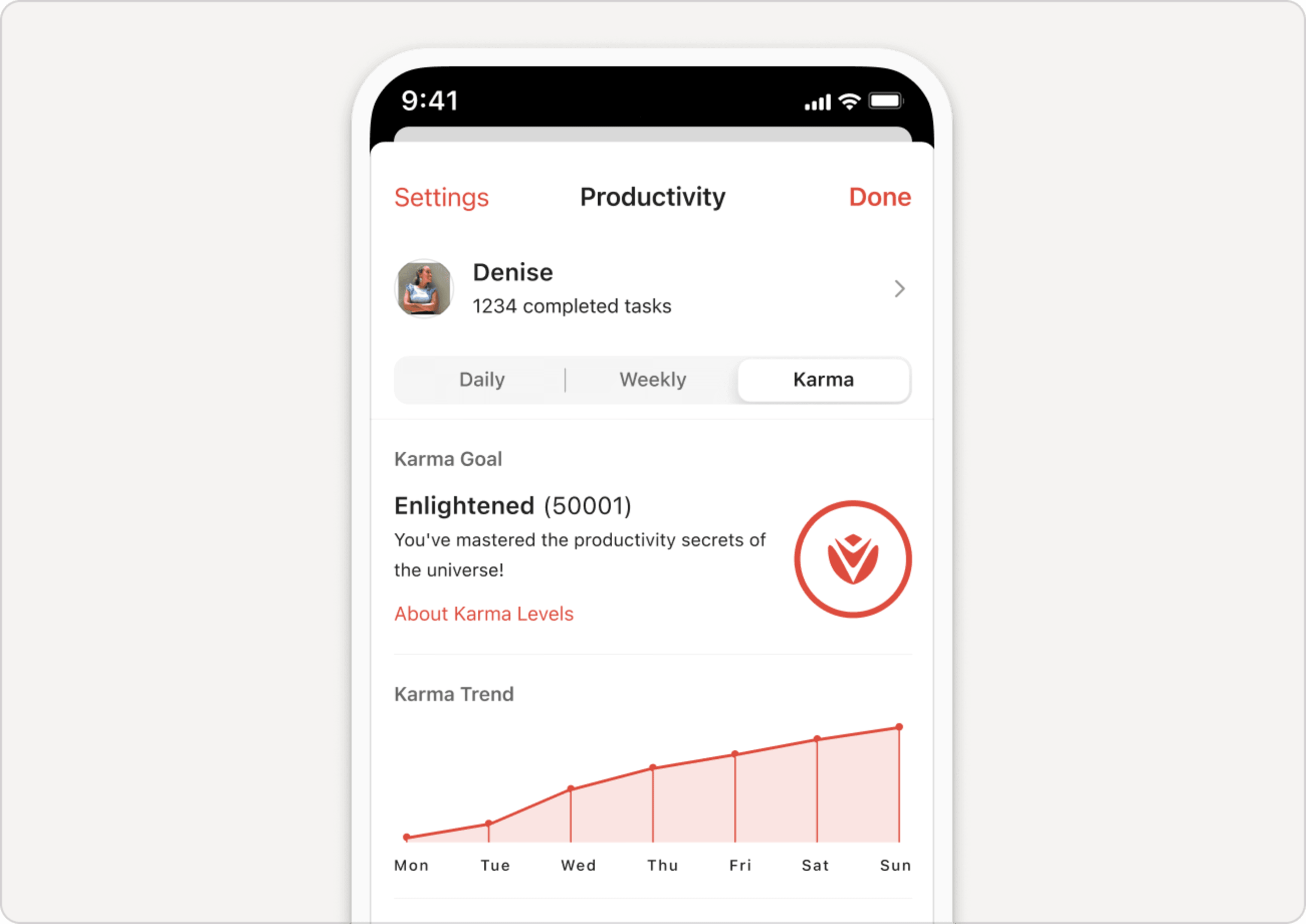 Read on to learn more!
To learn more about the various Karma levels and which actions are earning you points, click on About Karma Levels from the Productivity view.
Once you reach Karma
Enlightenment
, a new mystery theme will be unlocked on your account. 
To see how you've accumulated Karma points over the last week, look at your Karma trend.
| Karma symbol | What it means |
| --- | --- |
| | You added new tasks. |
| | You completed tasks. |
| | You used advanced features. |
| | You reached your Daily or Weekly goals. |
How to earn or lose Karma
You add tasks.
You complete tasks on time.
You use advanced features such as labels, recurring due dates, and reminders.
You reach self-set goals regarding the number of tasks you want to complete either daily or weekly.
You achieve ongoing "streaks" by attaining your goals for several days/weeks in a row.
Karma points are added throughout the day. Furthermore, the higher the Karma level you have, the smaller amount of points will be given.
You have tasks that are 4 or more days overdue.
You can
change your Karma settings
to customize your daily and weekly task goals, choose which days of the week won't count towards those goals (like weekends), and turn on vacation mode so that your streaks don't break while you're away.
Turn on or turn off Karma
Click your avatar in the top-left.
Click Settings.
Click Productivity. 
Use the Todoist Karma toggle to turn the Karma feature on and off.
Click Update.
If you don't benefit from using the daily and weekly goals, you can turn them off by setting the goals to 0. The goals will always be completed and won't get in your way.
Click your avatar in the top-left.
Click Settings.
Click Productivity. 
Change Daily tasks to 0.
Change Weekly tasks to 0.
Click Update.
FAQ
Make sure to select which days you don't want to work on your tasks; your days off. 
If you're away for a longer period, simply turn on vacation mode. This way, your streaks and Karma will remain intact even when you don't achieve your daily or weekly goals. Just remember to turn it back off whenever you've returned and want to start gaining Karma points again.
You'll find both options on the web, Windows, or macOS app by doing the following:
Click your avatar in the top-left.
Select Settings.
Select Productivity.
We currently don't have a feature that lets you reset your Karma, but you can contact us to do this for you. Your Karma will be reset to the default score of 50 points.
No, Todoist checks the goal every time a user completes a task. If you change the goal to a lower number and don't complete any other task, your streak will be broken. A workaround for this would be to complete at least one more task to meet your goal.